On Sunday morning Harper & I went out for a drive with camera in tow. It was a fabulous 70 degree morning & Harper was all dressed up in her brand new outfit from Elephantito. (i am obsessed with their sweet girly dresses & shoes!) Harper wore the:
* Mauve Floral Smocked Tunic Dress (ON SALE NOW!) I am OBSESSED with the fit & fabric of this dress, it is so lovely.
* Crossed Sandal – Orquid Leather They are just a tad big on her still. They come in many colors & I just love the criss cross of the leather.
* Light Olive Green Peony Bohemian Floral Headband by Just Dawnelle. Dawnelle is a contributor here on Spearmint Baby and she has some serious style. Her Etsy shop is full of fabulous/affordable headbands for women/girls.

The first stop for our mini photoshoot was an old, deserted barn about 5 miles from my house. I've driven by this decaying barn hundreds of times, but never actually had the guts to check it out! I thought it would make a pretty backdrop for photos so we pulled into the grassy lot.

After about 10 minutes of picture taking in front of the barn, we decided to walk around to the back. On the side there was a cutout for a window. I lifted Harper up to peek inside and the view was beautiful! We had a discussion about all of the different animals that may have lived here a long time ago. Then we walked around to the back of the barn. There were enough wood planks missing from the back right side of the barn that we were able to walk inside! It was an absolute gem… the barn had hardwood floors, an old/rusty fridge, a handmade chair, and a spectacular wooden ceiling/roofline. The 1st photos of Harper were taken inside.
After we finished at the barn we took a drive over to Main Street. The photos below were taken there. Do your kids like posing for pictures? Mine DO NOT & I usually have to make up some sort of game to get them to stand still for more than a few seconds. I had to bribe Harper with ice cream to get some photos while walking up and down Main Street. After we were finished she picked out a NESTLÉ Drumstick at the 7-11 across the street.

Thank you to Elephantito for Harper's beautiful new clothes! Be sure to bookmark them for special occasion clothes. They have so many GORGEOUS things for baby, girls & boys. & you can follow Elephantito on Facebook for sneak peeks of their new collection as well as fab sales!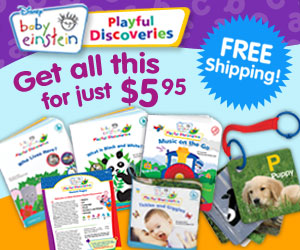 Wahoo! Another offer from Early Moments! This time they are offering up the Baby Einstein Playful Discovery Set for ONLY $5.95 + FREE Shipping!
When you sign up for this offer, you sign up for a membership, but you can cancel at anytime and are under zero obligation. Preview upcoming packages Risk free. Cancel anytime.  To manage your account, simply call 1-800-353-3140 or login to your account online: https://www.earlymoments.com/Login/
• Control your membership online
– Adjust your shipping interval
– View account history
– Preview upcoming packages
• No purchase commitment
• Risk free – Cancel anytime
• 100% satisfaction guarantee
• A+ BBB Rating
On a side note, I ordered the 5 Dr. Seuss Hardcover Books, Dr. Seuss back pack for ONLY $5.95 Shipped!! And I am so happy with that order, I am definitely going to pick up this deal as well. Reagan is going to be one smart cookie 😉
 _______________________________________________
It actually gives you the total value $232.50 to spend on the website, so you don't have to get two 16×20 photo canvases. You can opt for even larger ones, or grab a few smaller ones. I actually grabbed up three smaller ones as you can see from my order summary above 🙂 You could potentially purchase as many as 4 if just using the credit.
Eversave has a great Canvas Print Deal going on where you can get 2 16×20 Photo Canvas Prints + FREE Shipping for ONLY $40. Plus, if you create a new Eversave account you should get a $5 credit, making it ONLY $35 for two 16×20 prints. Also if you'd rather opt for a smaller size they are free with this deal when you go to redeem it on the Easy Canvas Prints website.
__________________________________________________
Gevalia.com is offering up the 8 oz boxes of Raspberry Danish coffee and/or German Chocolate Cake coffee for ONLY $2 (Reg. $8) per box (limit 10) with the promo code LRG2AP3 at checkout. Deal is valid only through tomorrow 4/30.
ArtsCow is offering up 3 customized Cosmetic Bags (S, M, L) for ONLY $9 + FREE shipping (just $3.33 per bag) when you enter coupon code: MAKEUPBAG at checkout. The XL, XXL, XXXL are 3 for $15.99! I made ones with my daughter Reagan's newborn (born 3/8/13)  photos – pictured above- on them 🙂 to give as Mother's Day gifts.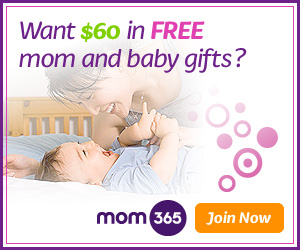 When you sign up for Mom365, a site that caters to Moms and offers up need-to-knows and fun-to-knows about your baby, you'll receive $60 FREE in gifts:
__________________________________________
 CLICK HERE to check out One Frugal Chick! I'm on twitter, facebook & have a daily newsletter subscription too!
Going into the labor of my second son, I thought I had it all together. Tiny newborn sleepers were washed and folded and my hospital bag was actually packed and ready. Even the birth seemed to go off without a hitch! The one thing I hadn't prepared for was my son's stay in the NICU. Here are some tips and tricks I learned to help get through our NICU encounter.
• Bring Pillows– In the NICU where our son stayed, parents had wooden rocking chairs with thin cushions to sit on. Let's be honest here- a thin cushion is not going to cut it after giving birth. I may have looked a little ridiculous walking in with all my pillows, but being comfortable helped me to focus on my baby.
• Stay Nourished– With all your attention on your newborn it can be difficult to remember to eat and drink. However, keeping up your strength is imperative when you have a sick baby to care for especially if you are breastfeeding! Carry a big water bottle with you and take snack breaks!
• Rest– During this crazy time, being able to get adequate rest is so important! Mommy guilt begins at the start, so it can be hard to leave your newborn's side but don't feel bad if you need some rest. Chances are your baby will be sleeping while you are gone as well.
• Call in Backups– When friends and family ask what they can do to help, don't be afraid to speak up and ask for meals or babysitting for your other children. Sometimes even having a friend come and sit with you can go a long way and give you fresh strength to cope.
• Let your Voice be Heard– It can be very hard to keep with all the medical jargon coming at you from doctors and nurses. Don't be afraid to ask lots of questions and don't be shy to give your opinion. Now is the time to practice that protective Mama Bear side! You'll be using it for a long time to come.
Visit my personal blog at: comesincolours.blogspot.com!

Happy Friday!
This week I decided to try making the ever popular CLOUD! My inspiration for this sewing project was this happy face knit cloud plush. I've been wanting to try working with linen fabric & thought this would be the perfect/simple project. Harper & I went over to Joann Fabrics earlier in the week & the linen that I wanted was on sale. YAY! I believe I paid about $8 for 1 yard. I never realized how expensive linen is! The good news is that I have a ton left over because you really don't need a lot of fabric for a cloud.
Overall the project was pretty easy. I hand drew a pattern, pinned it to the fabric, cut it out, embroidered the eyes & smile, sewed, stuffed, sewed some more, and then used fabric paint to make the rosy cheeks.
What I learned about making a cloud is that you don't want your "cloud humps" to be so exaggerated. I feel like my cloud looks more like a 4 hump camel! So, next time I will try drawing a much softer (less "hump-y") looking cloud pattern!

* artwork by Lindsayletters.com
** follow my sewing projects on INSTAGRAM: @thespearmintblogs
Oh my holy cuteness! Jumpsuits!!! Trending right now, and forever more in my mind, are jumpsuits. These are just too cute to keep to myself. Stripes, ruffles, patchwork, florals… you name it and they've put in on a jumpsuit this season. Here's just a few that I've found so far…
FLORAL BY MINI BODEN
PATCHWORK BY VIVID DRESS
STRIPES! ON TIKETA
RUFFLY RUFFLES ON PRSPR KIDS
just love
//kelly
Older Posts